Plastic Hoop Clamp for Drummer's Palette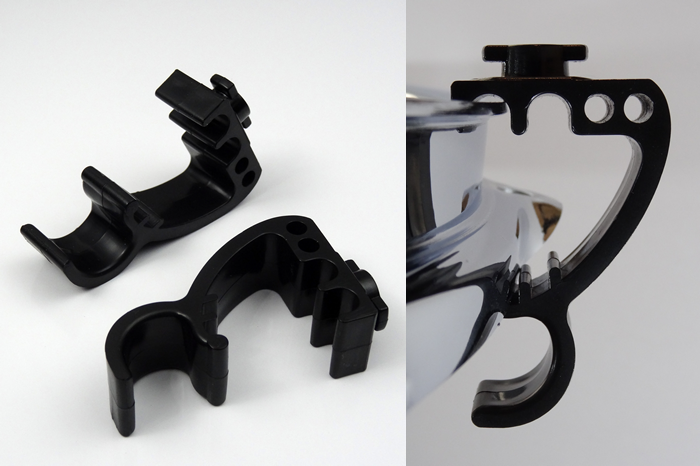 The hoop clamps are spare parts of Drummer's Palette.

Description
Details
This hoop clamp is spare parts of Drummer's Palette.
(The same as accessories of Drummer's Palette.)

[NOTE]


There is versatility. However, the specifications are based on the 1.2"(3cm) height of the hoop.
Therefore, there is a possibility that you may not be able to use this product the hoop itself is extremely tall or low.
It depends on the shape of the hoop, Which is intended to be 1.1"(2.8cm) - 1.25"(3.2cm) in height.
It cannot be installed on wood hoops.
The stick tray is not included with this product.
The specifications of the product are subject to change without notice. Thank you in advance for your understanding.

Warning

The product is to be used only for its stated purpose.
Do not open the plastic hoop clamp using force. It may break the parts, and could possibly cause injury.
Do not install the hoop clamp in a position where a hand will directly hit it. It could possibly cause injury.
Please keep the product out of the reach of children.
Keep the hoop clamp away from heat, humidity, and direct sunlight.
Do not place the product in direct sunlight in a vehicle for extended periods.
All measurements are approximate and the actual dimensions may vary slightly.

Specifications
Quantity:
3 pieces

Material:
ABS

Size:
approx. W1.22" x D0.59" x H2.17"
(approx. W31mm x D15mm x H55mm)

Only a guide, usable hoop height is from 1.1"(2.8cm) to 1.25"(3.2cm), depending on the shape.

Price
Open price


Where To Buy
It can be purchased from these websites. Steve Weiss Music(USA) www.steveweissmusic.com Trumslagaren(SWEDEN) www.trumslagaren.se NYA MUSIK(SWEDEN) www.nyamusik.se SATAKE'S DRUM SHOP(JAPAN) www.satake-drum.com DRUMS PROSHOP GATEWAY(JAPAN) www.gatewaydrumline.com DRUM SHOP ACT(JAPAN) www.drums.co.jp amazon Amazon USA amazon Amazon CANADA ebay ebay Reverb Reverb
You can also buy it here by PayPal payment.
Contact Us
CLICK HERE Please feel free to ask us any questions.
Video

https://www.youtube.com/watch?v=R7Sbxyuq8sw
Review
It's good item for birthday present to drummer.
As for myself, I am very satisfied.
It's great tray.
Peter Erskine
Jeff Hamilton
Elvin Jones
Philly Joe Jones
Brian Blade
Steve Gadd
Billy Higgins
Lewis Nash
Herlin Riley
Max Roach
Buddy Rich
Steve Smith
Jeff Watts
Kenny Washington
Tony Williams
Shelly Manne
Stanton Moore
Home